New York Mets "Digideck"
Posted on February 2, 2017 by National Sports Forum | Selling It | SUBSCRIBE
NEW YORK METS UTILIZE DIGITAL TECHNOLOGY PLATFORM TO DRIVE SALES, RECAPS AND PREMIUM REVENUE
Mets give corporate sponsors the opportunity to view their story through an interactive lens.
By: Mike Curtin
---
Editor's Note
Dear Faithful Readers,
The 2017 National Sports Forum is just a few days away! The entire staff begins flying out to Minneapolis-St. Paul early next week and we are excited to put on a great Forum.
In our final story before the 2017 Forum, we wanted to showcase the New York Mets and a new platform they are utilizing to help them drive sales and stand out in a highly competitive market. The Mets have seen much success and we are excited to share this story with you.
Thank you for tuning into "Selling It…" this year and we are excited to see everyone in Minneapolis-St. Paul, MN from February 12-14th for the 2017 National Sports Forum!
Enjoy the read!
Cheers,
Alby Abalos
Marketing and Communications Manager
alby@sports-forum.com
P.S. – Don't forget to stay engaged with us on social media! Follow @NatlSportsForum on Twitter and Instagram and like us on Facebook!
---
Sponsor's Note
"As one of our strongest partners, the New York Mets constantly impresses us with the new and innovative ideas they come up with. Their use of the Digideck to drive sponsorship and ticketing sales, recaps and overall revenue is no exception. They've built a successful sales program that readers will enjoy learning about in this issue and at NSF."
At this year's 2017 National Sports Forum Sportsdigita will be hosting a breakout session called Sponsorship Unplugged featuring a sponsorship case study with the Mets and Coca-Cola, one of their premier partners.
The session will focus on the importance of listening to and understanding your partners' or prospects' goals and objectives, addressing those objectives and then activating with your partner. The session is scheduled for Monday, February 13th from 2:00-3:00 pm at the National Sports Forum in Minneapolis-St. Paul, Minnesota. Anyone attending the NSF who has goals around partnership activation is encouraged to attend.
Visit http://www.sportsdigita.com/ to learn more about Sportsdigita.
---
PROGRAM TITLE
New York Mets: "Digideck"
---
OBJECTIVES
The New York Mets wanted to stand out in a highly-competitive market (an area that hosts 13 different professional sports teams!). The status quo was not an option, and as Tim Whang, Director of Client Services said, "With PowerPoint, if you've seen one, you've seen them all." The Mets wanted to enter sponsorship sales meetings with a custom, specialized master deck that could accurately exhibit the team's compelling and unique story in a highly interactive way.
PROGRAM DESCRIPTION
With the goal of creating an interactive experience for their potential corporate partners in mind, the Mets turned to Sportsdigita and their presentation platform, the Digideck, for their turnkey dynamic solution. Sportsdigita took the Mets' current sponsorship PowerPoint and built a customized Digideck complete with team videos, high resolution images, animated GIFs and infographics showcasing the team's vibrant fanbase, premium experiences and partnership opportunities.
The Digideck is a leading online presentation software of choice for the sports entertainment industry. The cloud-based presentation software is an interactive sales tool used by sales professionals across every level of sport to build and share dynamic and engaging sales decks customized for their brand and designed to "wow" prospects and clients. It's ease-of-use, CRM integration and advanced analytics ensure sales teams are armed with the data and information they need to generate more sales opportunities and close deals faster.
The New York Mets' first Digideck was built three years ago, solely for sponsorship sales. Today, they have successfully created hundreds of custom Digideck presentations for sponsorships sales, recaps and renewals, as well as group, season and premium ticketing.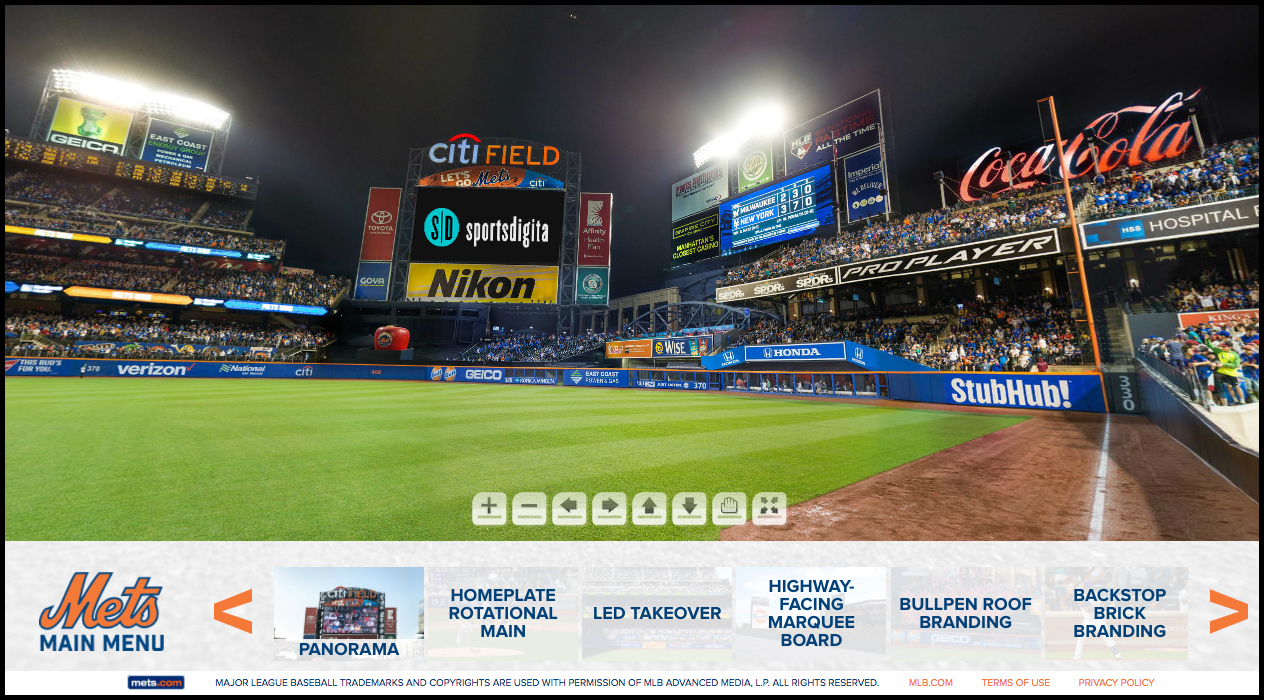 PARTNERSHIP
The Mets and Sportsdigita have formed a strong partnership, allowing the Mets to continually devise new and innovative ways to expand and grow their sales efforts through the Digideck.
RESULTS
The Mets are arming the sales and client services team with tools to drive additional revenue. "We get a lot of compliments from partners, both on the sponsorship and recap end of our business," said Whang. "We partner with some of the world's most innovative brands. The Digideck enables us bring those partnership stories to life and compete at a very high level for the business. It allows us to go into these presentations with a lot of confidence."
From an activation standpoint, user insights help streamline the implementation process. "Making sure the partners are viewing and receiving the information we send has improved communication greatly," said Whang.
Sponsorship activation is just one component of the Mets' relationship with the Digideck. Perhaps the greatest indicator of success is how the Mets use the platform for both recaps and renewals.
"Recap presentations often trickle into renewal conversations, thus providing top of the line proof-of-performance recaps helps to facilitate the partnership renewal process. Visually showcasing actual results of a partnership is the biggest step in getting renewals done. It brings credibility to our partnerships. We love it when partners can actually see the value of our relationship and the Digideck helps us do just that," said Whang.
LOOKING AHEAD
The Digideck is a product of innovative thought leadership combined with team and client input. The Mets are one of the most progressive organizations in sports and have helped drive a very aggressive roadmap. "The Digideck has come such a long way since we initially started using it, I'm excited to continue to have the Sportsdigita team rollout product features we can use in real time." Said Whang.
---
CONTACT
For more information, contact:
Nate Anderson, Marketing Manager, Sportsdigita
nanderson@sportsdigita.com | 612.206.3890
---
ABOUT THE NATIONAL SPORTS FORUM
The National Sports Forum is the largest annual cross-gathering of the top team sports marketing, sales, promotions, and event entertainment executives from throughout the broad spectrum of teams and leagues in North America. The 2017 NSF Conference and Trade Show will be held on February 12 – 14, 2017 in Minneapolis-St.Paul, MN. Visit www.sports-forum.com.
THE NSF SALUTES
OUR PARTNER
Sports & Entertainment, Powered by PSAV, provides a strategic and specialized focus for event technology and production services to the sports and entertainment industry. Through dynamic and innovative technology solutions, PSAV can help organizations reach new levels of fan engagement in season and maximize private and special event revenue in the off season.
Click Here to learn more!

---