Speakers
Each year the National Sports Forum features 80+ speakers from a variety of leagues, organizations, agencies and top spokespeople within the sports industry.
Below are the speakers for the 2017 National Sports Forum.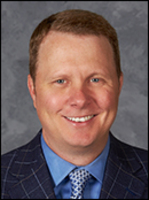 Eric Stisser
SVP, Corporate Partnerships
St. Louis Blues
Eric Stisser was hired in September 2006 as the Senior Vice President of Corporate Sponsorship for the St. Louis Blues and Scottrade Center. He is responsible for managing and developing the business relationships and generating revenues in corporate sponsorships, advertising sales, stadium signage, promotions and executive suite sales. He also works closely on the development of special events and the overall marketing and branding for the Blues and Scottrade Center.
Prior to joining the Blues, Stisser worked for the St. Louis Rams for eight seasons. He served the Rams as the Director of Corporate Sales & Marketing. Stisser's duties included the marketing and selling of corporate sponsorships, promotions, stadium signage and executive suites for the Rams. He also assisted in the stadium naming rights sale of the Edward Jones Dome in 2001.
Before Stisser worked for the Rams, he was the Assistant Director of Business Development for the League Office of the Continental Basketball Association in St. Louis in 1996. He later served as the Director of Marketing & Corporate Development for the Illinois Olympic Sports Festival, The Prairie State Games.
Stisser began his career as the Assistant Director of Admissions and Development at Lake Forest Academy in suburban Chicago from 1994-96 – where he also served as an assistant coach in football, basketball and baseball.
Stisser received his bachelor's degree in communications from DePauw University (Greencastle, IN) in 1994. While at DePauw, Stisser played quarterback on the football team, was active in broadcast journalism at the Media Center and he served as President of his Fraternity. Eric later completed his Masters of Business Administration at Washington University in St. Louis in 2001. Eric lives in Webster Groves with his wife, Rebecca, and his two children, Emily (12) and Graham (8).