Steering Committee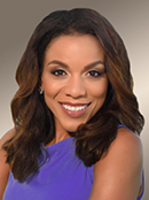 Sheri Barros
Vice President, Marketing & Brand Ambassador
Cooper Holdings, Inc.
Sherí Barros has been with Cooper Holdings, Inc. since 2014. In her current role, as Vice President of Marketing & Brand Ambassador for Cooper Holdings, she is responsible for driving brand awareness, working with leadership to guide strategic growth plans, and managing emerging business opportunities. Cooper Holdings is a privately-held company comprised of subsidiary companies in the marketing, sports and entertainment industries. Subsidiaries include: CSE, a sports marketing agency; CSE Talent, a sports and broadcast talent representation agency; If/Then, a digital agency; Vantedge, an insights & analytics agency; ENTITLE, a naming rights company for sports entertainment properties; Justice Network, a multicast network delivering entertainment programming with a commitment to safety.
Sherí began as a Director with CSE, where she consulted for corporate brands on strategy, negotiation and management of sports partnerships. Her team managed partnerships across the U.S. within the NBA, NCAA, MLS, International Soccer, Action Sports, and the WWE.
Prior to joining CSE, Ms. Barros led the marketing department for Spurs Sports & Entertainment. Sherí managed marketing for the now five-time NBA Champion San Antonio Spurs, and was promoted to overseeing brand marketing for all Spurs Sports & Entertainment properties [NBA Spurs, WNBA Stars, AHL Rampage, & non-profit foundation]. During her tenure, the Spurs won several marketing and advertising awards: Telly Awards, a Summit Creative Award, and National Sports Forum ADchievement Award. Prior to the Spurs, Ms. Barros spent time in the front offices of several teams, including the Oakland Raiders, Atlanta Falcons, and Texas Rangers.
Giving back both personally and professionally continue to be a primary focus in her ever-evolving career. Sherí serves on the Executive Committee of Atlanta's American Heart Association "Go Red for Women" campaign. An advocate of diversity in the sports entertainment industry, she spent 3 years on the National Sports Forum's "Business of Diversity in Sports & Entertainment" Committee, prior to joining the NSF Steering Committee. A two-time 'Who's Who' honoree in Atlanta and San Antonio, Sherí was selected as keynote speaker for the American Marketing Association in Austin and San Antonio.
A native of Atlanta, Ms. Barros holds a Bachelor's Degree from Florida State University and a Master's Degree from the University of North Texas.